Taking the time to weigh up your options when investing in new products for your home is always a good idea and often homeowners have trouble deciding what to go for. When it comes to your front door, it's the focal point of the front of your home, so naturally, you want it to be a real standout piece to complement your house. External wooden doors are the best choice for your project and we've collated the all-important reasons why. No matter if you want a traditional style or contemporary look, wooden doors are the perfect fit for any property.
Aesthetics of wooden doors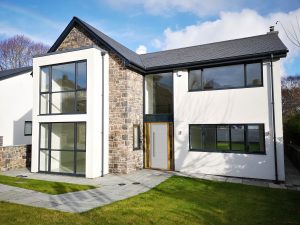 One of the biggest benefits of choosing an external wooden door for your entrance is how great it looks, giving your home a new lease of life. The versatile style suits both classic and modern homes, providing greater flexibility as well as more curb appeal, compared to other materials such as PVCu. As wood is a natural and extremely versatile material, your wooden door is available in far more designs compared to PVCu or aluminium. Going beyond looks, wooden external doors add character to your property, and are a great way to create a sense of homeliness.
External wooden doors made exactly to your liking
No two pieces of wood are exactly the same, making them an incredibly versatile material in areas concerning size, style of wood and design, so you can have your door perfectly tailored to your home and aesthetic. Your external wooden door will be completely unique to you, as you can bring in something as simple as a sketch and we will bring your ideas to life. The benefits that timber offers means you can be as specific as you like – you're even able to choose the style of wood grain. With choices including light wood, dark wood, painted surfaces, tight grain, wide grain, simplicity or intricate design work – your options are endless.
Wooden door security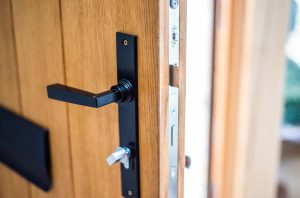 Wooden doors boast incredible strength and are one of the few door materials that can be repaired, as wood is malleable and easy to work with. This means a wooden door will offer you and your home great security and peace of mind during its long life. As well as the wood itself being safe and secure, our timber doors are finished to the highest specifications to ensure your home remains protected. We use Simonswerk Tectus hinges on all of our wooden doors, which are a completely sealed hinge system that allows your front door to be completely flush when closed.
Wooden doors are eco-friendly
As wood is a natural resource, the damage to the environment is limited when investing in a wooden external door as you will be contributing to a more sustainable future for this material. Timber uses fewer carbon emissions in manufacturing and its long life also means there is less need to update them as frequently, making a wooden door an eco-friendly choice for your home.
Wooden doors are durable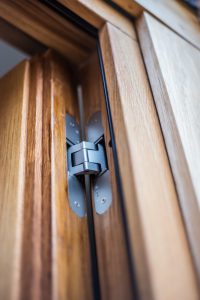 When investing in your home, you want to make sure that you're spending your money wisely. The quality of Türmacher wooden doors will last for many years. To enhance the lifespan of your front door, we can install a BUVA IsoStone threshold that provides you with impressive performance, giving you the confidence that your external wooden door will look stunning and perform effectively for many years.
Update the front of your home with a Türmacher wooden door
If you're feeling inspired and want to get started on your next home improvement project with us, choose a wooden front door from Türmacher and we will be able to create a design that is tailored to your home. Get in touch with us to start a discussion about your new front door and a member of our team will be happy to help. If you want to get started right away, request a quote and we will get back to you in no time.