Your front door is one of the most recognisable, sometimes overlooked aspects of your home. It's a major focal point of the outside of your house and plays a big part in setting the tone and style of the rest of your home. Homeowners can sometimes overlook the front of their property in the new year and focus on the interior, so here are the top 3 front door ideas and trends that will grab your attention and give you the inspiration you need to upgrade your entrance in 2022.
1. Front doors with bold colours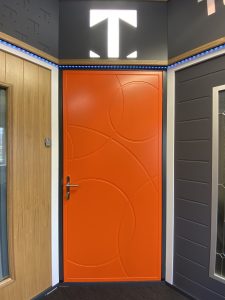 Choosing your front door can be quite a daunting decision, so many homeowners go against going bold and instead opt for muted or natural colours. However, 2022 is the year to go bold. Bright reds, yellows and blues are going to be in style, as they add the personality your home needs to stand out from the crowd. The pop of colour used for your entrance can create a sense of cohesion with other elements of your home, such as your pillows, blankets and furniture – matching the outside with the inside.
2. Wide front doors
Often, front doors are restricted to single doors with standard sizes. In 2022, experts agree that the trends are moving towards wide front doors and popular choices include double doors or wider single doors. Expanding the width of your front door gives your home a sense of grandeur and brings more attention to the design of your home.
3. Combining materials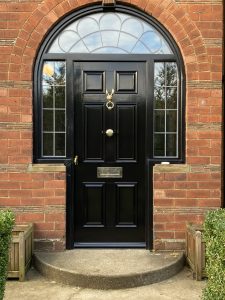 Combining the materials in your front door adds extra interest to your entrance. Glass and wood complement each other well and you can choose a number of designs and patterns to make the glass stand out as the focal point of your new door. In 2022, stained and patterned glass is expected to make more of an appearance. Glass can be implemented in the actual door or around it, adding style and interesting light designs in your home.
Bring your front door ideas to life
At Türmacher, we work closely with you to create the perfect front door for your home. Take inspiration from the top trends this year and design the door of your dreams, simply bring your front door ideas to us and we can make them a reality. Even if you don't have any ideas, we will work with you to design a door from scratch. Whether it be a quick sketch or detailed plans, we can create literally anything for you to best suit your home. We stock a wide range of glass designs and offer any RAL colour for your new front door so that you can perfectly complement or create a striking statement for the front of your home.
Choose Türmacher Entrances for your new front door
Get in touch with us today to get started on your 2022 home improvement project. A member of our team will be happy to help you with any specific design requirements or questions that you have throughout the entire process. If you want to get the ball rolling on your first project of the year, you can request a quick quote and we will get back to you as soon as possible.