Three weeks ago, we attended The Joinery Network Live Event at Felder UK, Sovereign Business Park. Joiners, installers and manufacturers from the UK timber construction industry got together to look at the new Lignum doorset, which is the only independent door system available in the UK. The exclusive live event showed people in the timber manufacturing industry how to make certified timber doors.
Türmacher have worked closely with The Joinery Network since the start, with a shared vision of producing high quality and impressively insulated external wooden doors consistently to the trade and homeowners at competitive prices.
What is the Joinery Network?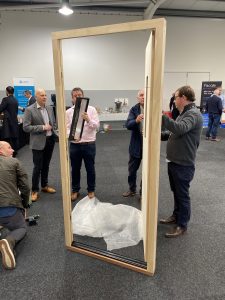 The Joinery Network is a collective group of specialist companies bringing together a complete range of services for businesses, like us, who manufacture or install timber windows and doors. Essentially, The Joinery Network allows you to find an easier way to find and work with expert suppliers so your business can thrive. This is thanks to the links that they can offer, including connections to suppliers of hardware, tooling, certification, manufacturing software and so much more, giving joiners everything they need to manufacture timber windows and doors.
The Lignum doorset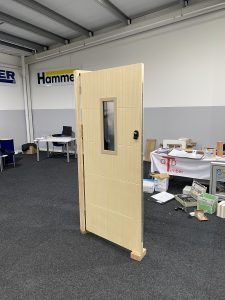 At Türmacher, we use the Lignum system from The Joinery Network to manufacture our trade range external wooden doors. The Lignum doorset is fully fitted and finished including paintwork. This way, you can create a grand entrance with the Lignum door system, as it is designed to provide lots of flexibility so you can offer trade customers and homeowners a wide range of door styles, whether traditional or contemporary.
Featuring high performance insulated panels to offer superb energy efficiency and weather performance, the Lignum doorset is available with 68mm or 90mm cills as standard, as well as optional extensions if required, fully prepared for glass units. We also offer a wide range of decorative glass options as well as hardware, including knockers, letterplates and handles, to add the perfect finishing touches.
Türmacher Trade Range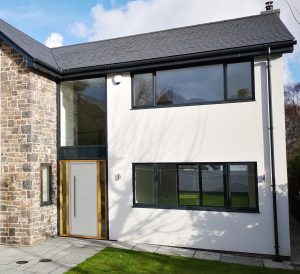 We manufacture Lignum system timber trade range doors in our Türmacher factory using high quality CNC machines. Our trade range offers seven readily available external wooden doors, with a wide range of choices for your project. Our timber doors provide the best design, thermal efficiency, security and durability, making them the perfect new or replacement door.
Update the front of your entrance with Türmacher
If you would like to get your hands on one of our exclusive trade range doors, expertly manufactured with the Lignum doorset, you can order it directly through our trade range page. If you know the specifications, you can enter these into the order forms. If you would like to see our wooden external doors in person, pop into our showroom where one of the team will be more than happy to have a chat with you about your dream door.