The safety of your home is the most crucial factor to consider when it comes to choosing your new external wooden door. With this in mind, all of our doors are designed and manufactured to the highest security specifications, without compromising on style. This way, you can choose the perfect design for your property, with the peace of mind that you are safe and secure in your home too. All of our doors have undergone specific tests and certifications in order to meet certain requirements, so that your door will last for many years to come.
PAS:24 2016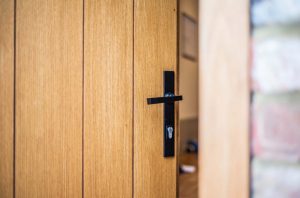 All our doors are PAS:24 2016 certified, which is a security standard that can only be achieved after your external wooden door has been rigorously tested and assessed for high security performance levels. This is so that your home is protected against the threat of any unwanted entry and to keep you and your family safe.
Simonswerk Tectus hinges

For ultimate security, we use Simonswerk Tectus hinges, utilising a completely concealed hinge system that allows your wooden door to be completely flush when you close it, which not only creates sleek sightlines, but it offers improved security too. This is thanks to the 3D adjustment and maintenance-free technology designed to last, keeping you and your home safe.
Tailor your external wooden door to your project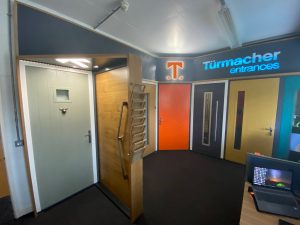 Any door that you choose can be tailored exactly to your project. So, if you have any specific requirements, all you need to do is let us know and we will design and manufacture the door exactly to your liking. All you have to do is simply bring in a sketch of your design along with any of the specifications that your front door requires and we can bring your door to life. Alternatively, if you're stuck for any ideas, we can come up with some designs for you to choose from to give you some inspiration for your high security wooden door.
Update the front of your home with our high security wooden doors
If you would like to upgrade your home with one of our high security wooden doors, don't hesitate to get in touch with us and we will be happy to discuss your new door with you. If you're stuck for inspiration, pop into our showroom to see a range of our external wooden doors on display and have a chat to us about any of your security requirements. If you know what you would like and want to get started on your project today, you can request a quote now and we will get back to you as soon as possible.