This stunning timber door replacement project is in our home village of Kingscliffe. Our client was looking for a door replacement that would let more light into the hallway and do this stunning stone-built detached home justice.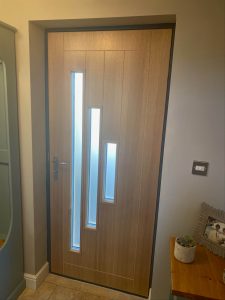 Mrs Reed said:
"Living locally to Kingscliffe, we knew about Kingscliffe Joinery and their Türmacher Door brand. They have a good reputation for quality timber products.
"We moved into the property in December 2019. The house is only 7 years old, so there were very little changes we wanted to make other than the front door! The style the previous owners had chosen was very ugly, it didn't give good kerb appeal to the house – it was just very out of place with the rest of the design features.
"We approached Paul and the Kingscliffe Joinery team to help us. As they're just around the corner, we called into the workshop for a chat and had a really good conversation with Paul about what we were looking for. My husband had seen a few doors he liked whilst he was out and about on his bike, so Paul asked us to take some photographs of them so he could get a real understanding of the kind of thing we were looking for.
"The team were friendly, helpful and accommodating and brilliant at putting together a design that incorporated our ideas, as well as making great suggestions that could only come from experience! We were planning to add a letter to plate to the timber door slab, but Paul's suggestion of having a letterbox on the wall instead works really well for the house.
"Unfortunately, shortly after we had finalised our design, the Covid-19 pandemic hit and lockdown meant that the workshop closed. Once Kingscliffe reopened, there were a few more delays with materials, but Paul and the team kept us in the loop with what was happening every step of the way.
"Our installation went ahead on the hottest day of the year last summer! The installation team had a bit of a job on their hands as the old door proved tricky to remove but they did a fantastic job. Everything was left clean and tidy and the following day the team came back to take care of some final details.
"We're really pleased with our new door, and maybe it's just village life, but we've even had compliments from our neighbours on how great it looks!"
The timber door which was designed for this project features three obscured glazed panels to let in the light from outside whilst maintaining privacy. The classic timber finish in Clear Lacquer gives true traditional character to this beautiful stone-built property in Kingscliffe.
If you are looking to replace your old front door with a beautiful, high-performance solid timber entrance door, get in touch with us today.