Whether you have designs planned for your project to protect the planet or you just want to save money on your energy bills, making environmentally conscious decisions for your home goes way beyond choosing double glazing. By making the right choice when it comes to doing your bit for the environment, reducing your carbon footprint is a great place to start. Your front door is essential for ensuring the sustainability of your project, as most of a home's heat escapes through its doors and windows. This way, by understanding the importance of the materials you use for your projects, you can make an eco-friendly home improvement.
Why choose wood for your external wooden doors?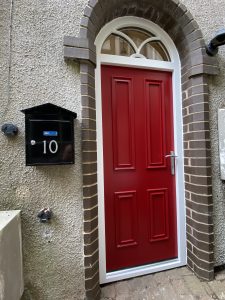 Wood offers innovative design options, resource efficiency and provides a low-carbon, eco-friendly alternative to your traditional building materials. It's also a cost effective solution, as there is no need for man-made carbon capture technology, which is the process of capturing and storing carbon before it's released into the atmosphere by burning fossil fuels.
Our timber doors provide ultra-low – U-Values at less than 0.8W/m2K and the construction of our doors are designed to be as thermally efficient as possible, retaining heat and resulting in reduced energy bills. This is because timber is a poor heat conductor meaning heat doesn't travel through it very well, so naturally, our timber doors are the perfect choice for keeping your home at an optimum temperature all year round.
Reducing CO2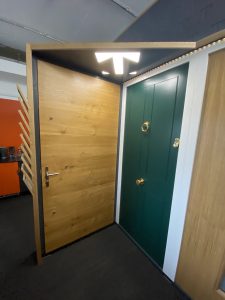 Choosing an external wooden door for your eco-friendly home improvement project helps to reduce the CO2 in the atmosphere and contributes to slowing climate change. Trees capture CO2 from the atmosphere and store it as carbon, so when it is harvested and the wood from the trees are used for products like our entrance doors, they store the carbon for its entire lifespan.
Using more wood helps to decarbonise construction and when you build with wood, you are building with carbon that's been kept away from entering the atmosphere. This means that you aren't contributing to the use of standard materials that require lots of CO2 to be made. Making use of timber in your eco-friendly home improvement project has a positive impact on more sustainable built environments and encourages the forest industry to plant, grow and manage their trees in a more sustainable way.
External wooden doors VS PVC doors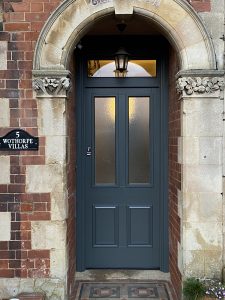 External wooden doors are stronger, more secure and more thermally efficient than PVCu alternatives. At Türmacher, all our doors are crafted using advanced German engineering offering outstanding performance, making them the perfect addition to your eco-friendly home improvement project.
When compared to PVCu doors, you can't ignore the many benefits that timber doors provide. Timber is a natural product, that uses fewer carbon emission in manufacturing than PVC and can last as long as 60 years. Our wooden external doors offer more impressive security, thanks to the BUVA IsoStone thresholds, which are high in strength, quality, insulation and weatherproofing.
Start your next project with us
Start your eco-friendly home improvement project with our timber trade range doors. Choose from seven readily available traditional and modern designs to give your entrance authenticity and sustainability. Alternatively, we can build your doors to your exact requirements. To find out about our more premium range, feel free to give us a call on 01780 430292 and we will discuss your requirements with you.
Visit our timber door showroom to see our impressive external wooden doors in person before you buy. Alternatively, request a quote today to get the ball rolling on your eco-friendly home improvement project today and we will be happy to discuss any requirements or questions you have.