Choosing a new front door can be a difficult decision, especially when it comes to style. Do the front of your client's home justice with a Türmacher external wooden door. Our wide range of doors and hardware options make it possible for you to achieve the exact look and feel to meet their property style. Timber doors offer a lot of flexibility when it comes to design and size, and with Türmacher external wooden doors, featuring outstanding performance and advanced German engineering, they are the perfect grand addition to any home.
Traditional external wooden doors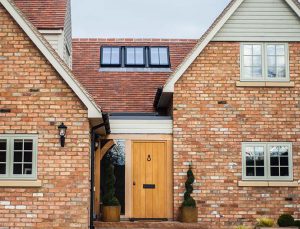 Do your customer's heritage home justice and choose a traditional front door style that offers the security and functionality of a modern product, whilst oozing charm and character. Whether they have a traditional 1930s property or Victorian villa, you can match the look of their home with a traditional external wooden door. At Türmacher we offer a range of classic cottage styles that can be chosen in a range of timeless and bold colours, including signal white, anthracite grey and oak. Not only do we offer this classic style, but we can design a door bespoke to your client's home so that you can create an entrance that is perfectly matched.
Modern external wooden doors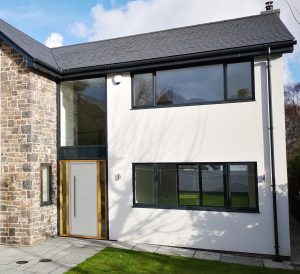 If you want to add a modern twist to your period property, or fit in with the contemporary style of a new build, then you can choose a front door style to complement the rest of your customer's home. Add a sense of grandeur to your customer's home by choosing our urban modern external wooden door, boasting impressive style and security, whilst creating a sense of grandeur for the front of your customer's home. A Türmacher entrance door is guaranteed to get people's heads turning and give a project the entrance it deserves.
Our trade range external wooden doors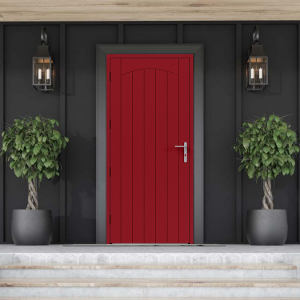 When it comes to choosing your client's dream door, have a look through our trade range for inspiration and ideas for what to offer them. Readily available in as little as 14 days, this range caters for all project types, whether it be traditional cottage style or contemporary. Our external wooden doors offer the best design, thermal efficiency, security and durability, which makes them the perfect replacement door option for any of your clients wanting to make a statement to the front of their home. With such a quick turnaround, you can make your client's dream door become a reality in a matter of days.
Choose a Türmacher entrance for your next home improvement project 
If you're interested or feeling inspired by our range of external wooden door styles, request a quote today to get your next project started. If you would like to have a chat with us about any specific requirements or would like some advice, feel free to drop into our showroom to have an in person conversation and look at our range of doors on display. Alternatively, you can give us a call and one of our experienced team will talk through anything with you.